Pancreatic Diseases

Last update of the site: Wednesday September 20, 2023

Dana R. Pierce et al. | Clinical Transplantation 2023; AOP:...
Simultaneous pancreas kidney (SPK) transplant restores long‐term glucose homeostasis beyond what can be achieved by intensive insulin therapy or...

Keizo Kaku et al. | Clinical Transplantation 2023; AOP:...
The gold standard surgical treatment for type 1 diabetes is pancreas transplantation, and simultaneous pancreas–kidney transplantation (SPK) is an...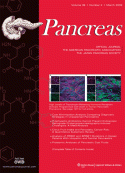 Ding, Xiaowen BN et al. | Pancreas 2023; 52(2): e89-e100
Acute pancreatitis (AP) is an inflammatory condition that results in severe morbidity with a mortality rate of 5% to 10% among the hospitalized patients.1,2...
Bibliographical search

Focus and target to your research of scientific data
Top articles

The 5 most read articles
Communicate!

You find this service useful for your professional practice? Inform a colleague about the platform.